5 Ways to Take the Stress Out of Exam Time
Image Source
Exam season is upon us – the time of the year most dreaded by children and parents alike. How can you best help your child? Should you go all Tiger Mother, or should you hope for the best and just let them just get on with it? It's tricky.
Here at Tazeka we've been there and got the t-shirt, seeing a batch of children through exams. These are the five strategies we found work the best.
Change your mind. It all comes down to attitude – the messages we feed our minds alter our entire psychological and physiological response.  We demonize exams and build up a fear factor. Instead work on instilling the principle that exams can be enjoyable; that they can even be – yes – fun.  Sounds unlikely? It can become a self-fulfilling prophecy because the more you bombard your psyche with a positive message, the more the subconscious will work to make it a reality. Your secret helpers here are Motivation and Confidence - both power blends that will max positivity.
Focus on the now.  There is so much anxiety about exams, so much energy wasted on fretting about the future and so much energy wasted on lamenting the past.  Keep focused on what you are doing now.  Whenever panic rises, breathe – breathe slowly and deeply, flooding your mind and body with oxygen.  There's no point stressing about the exams you've already done – they're gone.  History!   Equally, you need to motivate yourself enough to put in the work for future exams, of course you do, but there's no point going rigid with fear over what hasn't happened yet.  It's a waste of energy. This is where our Tension Tonic blend can really lend a hand.
Drop the drama.  It's easy to create drama about things, we all relish a bit of arm waving, shouting, wailing and gnashing of teeth but, really, what good does it do to throw books around, rail about the unfairness of exam topics, the hopelessness of teachers, and so on and so forth. A good session of pillow bashing releases muscular tension, or some kind of tough physical activity – a run, a cycle. But pillow bashing is best. Why? Because it is so stupidly pointless, you quickly realize that all the drama is a bit…silly really.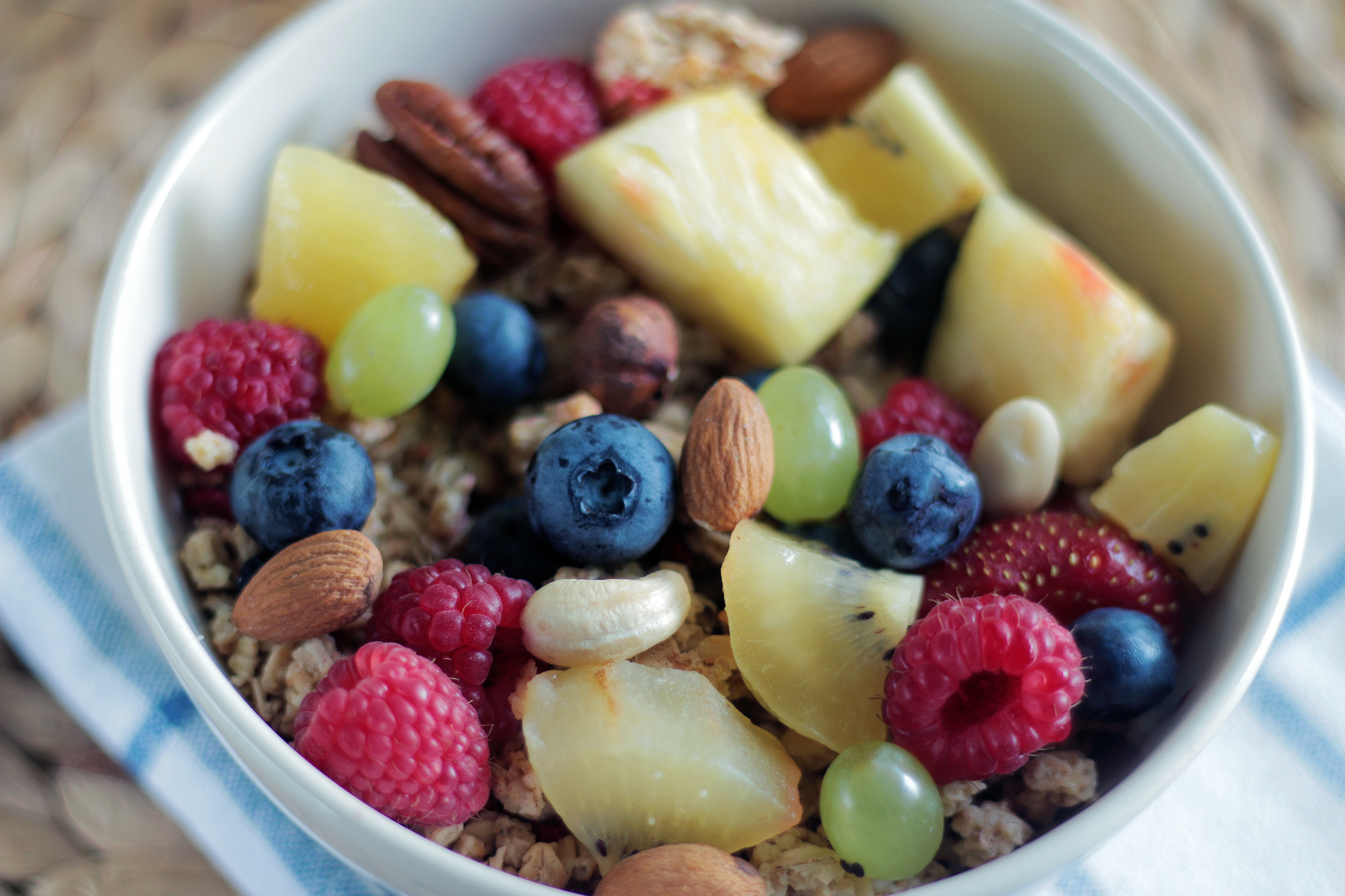 Watch their food and drink.  Keeping hydrated is hugely important. Your brain can't focus if your body is crying out for water. Avoid sodas and fizzy energy drinks – stick to water or coconut water.
You don't want to be dozing off in the middle of an exam, so go for a light but nutritious protein and veg beforehand – tofu stir fry, cheese and veg frittata, or – for the meat-eaters – grilled fish and veg, chicken kebab and salad.  Nuts make a good snack.
Steer clear of heavy carbs (bread, pasta, potatoes) as they can make you dozy.  Equally, don't be tempted to scarf sweets and chocolate – they will spike blood sugar levels which will then crash, leaving you feeling lethargic.
Image Source
Ask what they need.  Be there, ask what support your child needs and try your best to offer it. Some might want you to help with revision (if so, ask them what would be most useful for them – remember they aren't you, so what worked for you might not work for them).  Some might just appreciate being left in peace, with occasional snacks and drinks being provided. Some might want to offload anxieties, just to talk about stuff.  Some might appreciate being encouraged to go outside for a kickabout, see friends, have a night off.
Good luck everyone!
Focus and Achieve Home Study Blend
This is a lovely blend to put in a diffuser while your child is revising. You can also bottle it up and have them take it into school to dab on their pulse points before an exam.
10 drops Black Spruce

15 drops Balsam Fir

15 drops Rosemary
Add to your diffuser.
For a candle diffuser, use 5-9 drops.
For an electric diffuser, you can use 10-15 drops
Focus and Achieve roll on blend:
Add 16 drops to 1 oz jojoba for roll on bottle.

Shake well.

Apply to pulse points and inhale every few hours.
Note: although our blends are formulated to be extremely safe, we would not recommend using them topically on children under eight. However you can let younger children sniff the blends, or add onto a tissue and tuck into clothing. Should children under eight be having exams? Now that's another question altogether!
Zena Hallam

confidence, education, exam, exams, finals, motivation, relax, school, stress, studying, tension tonic